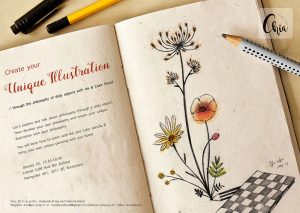 Time flies! 2020 is almost here! I wish all my friends: Happy new year & have a wonderful 2020 with full happiness and success!
It's time for inside activity! Come to join my illustration workshop and enjoy a wonderful afternoon together. We will to drink nice warm tea and explore the philosophy of Daily Life Objects together. Afterwards you will create an unique piece of illustration through your individual philosophy to a daily object!  
You will learn how to paint with Ink and Color pencils & bring your own unique painting with you home.
January 26, 15:30-18:30
Literair Café #HuisDerZotheid
Haringvliet 401, 3011 ZP, Rotterdam
Fee: 35 € / p.p (Inc. materials & tea and matcha bites)
( Early bird: 30 € / p.p untIl January 11 2020)
Register: info@yu-chia.nl or huisderzotheid@gmail.com (Before January 22. / Max 12 persons)
More workshops: www.chiadna.nl/workshops/